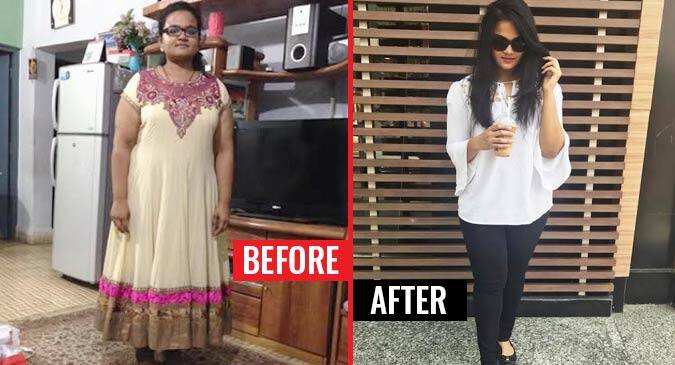 What does it feel like being called moti, fatso and aunty and told to lose weight when you're in school and college? Ask 24-year-old Mumbai resident Reshma Badi who had been wanting to lose weight ever since she can remember. Reshma, in her words, 'had always been fat.' "Everyone in my family—my parents and my sister—have been fat. I was fond of junk food and had whatever I wanted, whenever I wanted it," she says.
Her long struggle with weight
Gradually the name-calling began. "I used to be a very angry and bitter person. I would snap back at everyone who ridiculed me and taunted me to lose weight. I was used to groups of classmates bullying me as soon I walked into a class. Once, in my tenth standard, I had a major breakdown when my classmates wouldn't stop teasing me about my weight. The teacher had to finally intervene. This was a way of life for me," Reshma says.
All this had negatively affected her self-esteem. She would avoid socialising and meeting new people. She wouldn't dress up well because there weren't good clothes her size.
To deal with the issue, Reshma did the best thing – enroll at a gym. Unfortunately, she stopped at just that—getting expensive gym memberships. Year after year, all Reshma would register at gyms, give them a customary visit once or twice a year and let the membership lapse. Laziness, lack of motivation and time were just some of the excuses a 115 kg Reshma could conjure up then. In fact, her local gym even threatened to refuse membership to her because she had been extremely irregular in the past. Reshma's parents too decided to stop funding her gym memberships. Reshma tried a variety of trendy crash diets too. She tried the GM diet when she was 17 and then the cabbage soup diet and the raw food diet.
Making the change
But then one particular incident led Reshma to take up weight loss seriously. "Around 2014, I was returning home from college and a school kid playing nearby innocuously called me aunty. That too, in front of my friends. I was very embarrassed! That's when I decided that I needed to do something about my weight," she recalls. She was also motivated after a classmate in college showed her his own weight loss pictures.
Again, Reshma enrolled at a gym. But this time, she was determined to make a difference. "All this while, I hadn't paid attention to any particular workout or form. I had no real knowledge of exercises. But this time, I learnt about workouts. After 2 months, I just followed a routine on my own," she says. And that is where Reshma's weight loss journey differs from most others'.
Working out her workouts 
Without relying on a personal trainer, Reshma did her own workout her own way. "Initially, I would do a full body workout and cardio thrice a week. Then I started doing weight training and cardio four times a week. There were times when I would work out twice in a day," she says. Sadly, in late 2015, Reshma suffered an injury which put a pause on her weight loss regimen. But even as she observed bed rest, she made sure that she ate healthy. By the end of a year, Reshma had seen a massive weight loss of about 20 kgs. "I had also started feeling a lot more confident. My posture had improved. In fact, I inspired my family too to take up exercising and eating healthy!" she says.
Presently, Reshma goes for swimming classes with her mom and sister. She also does CrossFit, strengthening conditioning, kickboxing and other MMAs. As of now, after about 2 years since her weight loss journey began, Reshma weighs 70 kgs.
A self-customised healthy diet plan
"I am biotechnology student and have some knowledge of food. So I do my own research when it comes to my diet and plan my meals accordingly," she says.
There are two meals plans she follows –
1) Intermittent fasting requires her to restrict her 'feeding period' to 8 hours. This is followed by 16 hours of fasting. "I follow this thrice a week. There is a very limited time to eat, so you always feel full. You tend to restrict calories."
2) She also follows carb cycling which she follows 4 times a week. "I start my breakfast with eggs and vegetables. My lunch comprises vegetables, chicken/tofu/paneer with a little rice or roti. I have a smoothie made up of whey and fruits after my workout. For dinner, I have one source of protein and vegetables," she says.
On Saturdays, she has her much-awaited cheat meal for which she 'goes all out' for that one meal and eats whatever she wants.
One of the most fulfilling repercussions of her weight loss? "The same friends who teased me about my weight and made fun of me, are now lauding me and asking me for weight loss tips!" she says.
Read how fitness trainer Shreejith Nair overcame a physical disability to lose weight and become super fit!
Image source: Reshma Badi
Published: April 26, 2017 2:02 pm | Updated:April 26, 2017 2:35 pm
Weight loss of 45 kgs without a personal trainer or a dietitian? This woman did it!
Tags: #Healthy Diet #Healthy Lifestyle #Weight Loss #Weight Loss Info #Weight Loss News #Weight Loss Recipe #Weight Loss Trick