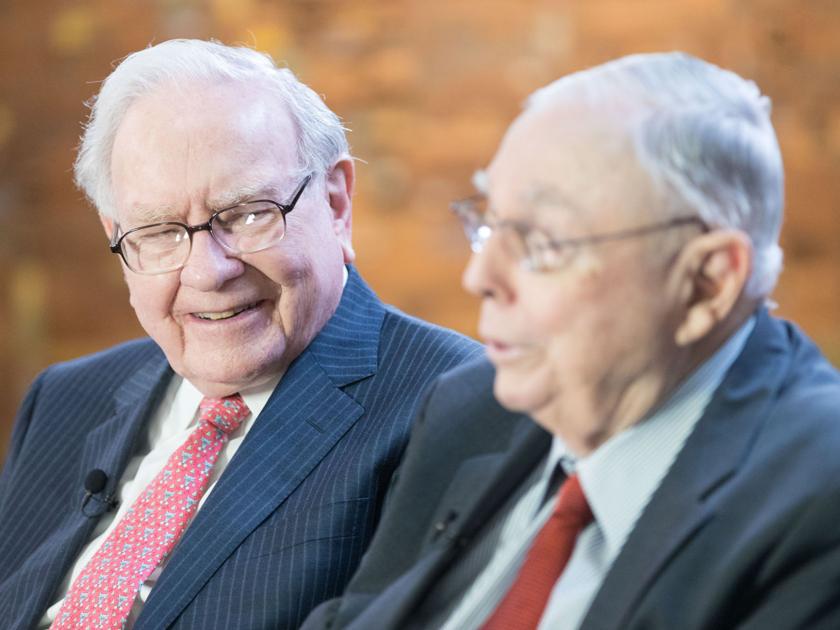 Charlie Munger may have struck again.
Last spring Munger, the vice chairman of Berkshire Hathaway Inc. and a business partner of Warren Buffett's since the 1960s, said the nation's healthcare system is "cockamamie … It's almost ridiculous in its complexity. … It gives our companies a big disadvantage in competing with other manufacturers."
Munger suggested replacing the U.S. system of private insurers and state and federal regulations with a "Medicare-for-all" government payment system, with strong protections against fraud, letting wealthy people pay for separate care if they want.
Munger's views sometimes find their way into Buffett's thinking. For example, Buffett has credited Munger with switching his investment philosophy from buying mediocre companies at cheap prices to buying outstanding companies at fair prices.
Now Buffett, chairman and CEO of Berkshire, has taken up the single-payer call.
In a recent interview with Judy Woodruff of "PBS NewsHour," Buffett said that from his"limited knowledge," having the government as a single payer for health care "probably is the best system. … We are such a rich country. In a sense, we can afford to do it."
Resolving the debate over the Affordable Care Act, also known as Obamacare, is "way outside my circle of competence," he said, but something must be done because the health care industry's 17 percent share of the U.S. economy, totaling more than $3 trillion a year, can't continue growing.
"In almost every field of American business, it pays to bring down costs," Buffett said, but with health care, "there's no incentive to bring down costs." A single-payer system, he said, "would be more effective, I think."
Powerful BH Energy boost
If you think of candy, ice cream and underwear when it comes to Berkshire, you're missing what is perhaps the company's fastest-growing business.
And that business, Berkshire Hathaway Energy, is due for another boost, given its proposed purchase of the largest electricity transmission network in Texas, announced last week.
Berkshire got into the power business in 2000 when it bought three-fourths of MidAmerican Energy, paying about $2 billion.
In 2001 Berkshire's share of MidAmerican's profit was $230 million.
Last year the division, which has mushroomed into Berkshire Hathaway Energy through billions of added investments, posted operating profits of $2.3 billion, a tenfold increase and 9.5 percent of Berkshire's total net income.
The latest expansion is Berkshire's $9 billion cash offer for Energy Future Holdings Corp., parent company of Oncor Electric Delivery Co.'s network of electric wires in Texas.
The operations of BHE, as Buffett calls the company in his annual letter to shareholders, hit most U.S. states and parts of Canada, England and the Philippines.
Besides Omaha-based Northern Natural Gas, its operating companies are MidAmerican, BHE Renewables, PacifiCorp, Pacific Power, Rocky Mountain Power, BHE Pipeline Group, NV Energy, Northern Powergrid, Kern River Gas Transmission Co., AltaLink, CalEnergy, BHE U.S. Transmission and HomeServices of America.
More wind power in Wyoming
A sidelight energy announcement:
BHE's Rocky Mountain Power division, based in Salt Lake City, detailed its plans to spend $3.5 billion to add 1.1 gigawatts of new wind-generated power capacity (enough to power 330,000 homes), build a 140-mile electricity transmission line and upgrade its wind generators in Wyoming, Utah and Idaho.
Most of the spending will be in Wyoming, said Cindy Crane, Rocky Mountain's president and CEO.
Existing generators will be fitted with longer arms and new technology, Crane said, part of a long-term energy plan known as Energy Vision 2020.
The plan, filed with state regulators, would let the company use federal energy production tax credits that will save customers money over the life of the project, the company said.
The projects would create between 1,100 and 1,600 construction jobs in Wyoming and add $120 million in local and state tax revenue during construction and between $11 million and $14 million a year after that.
Clayton Homes' 4th expansion
Berkshire's Clayton Homes is best known for its factory-built housing, but last week it acquired Colorado's largest residential developer, Oakwood Homes, the fourth such acquisition for its growing site-built homes division in Missouri, Tennessee and Georgia.
Clayton, based in Maryville, Tennessee, didn't disclose the purchase price but said Oakwood sold 1,200 homes in 2016.
Clayton also purchased Chafin Communities of Atlanta in the fall of 2015, Goodall Homes of Gallatin, Tennessee, in April 2016 and the assets of Summit Custom Homes of Kansas City last November.
Clayton's expansion fits into other housing-related businesses within Berkshire, including its network of Berkshire Hathaway real estate sales offices and manufacturers of bricks, carpet, paint, insulation and other home construction products.
The Omaha World-Herald is owned by Berkshire Hathaway Inc.
Warren Watch: Munger's views on 'cockamamie' health care have Buffett's ear | Warren Buffett
Tags: #Healthcare #Healthcare Info #Healthcare News #Healthcare Recipe #Healthcare Trick #Healthy Lifestyle