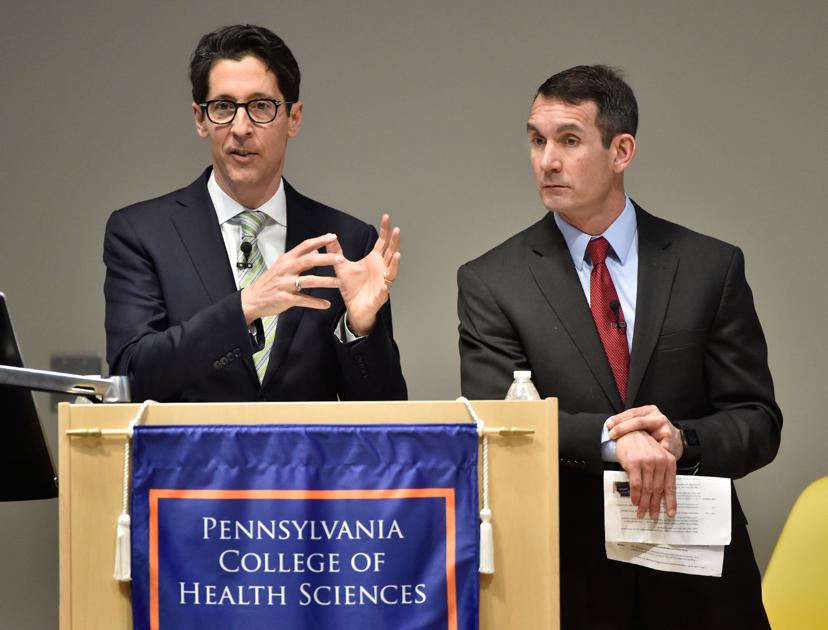 Pennsylvania Auditor General Eugene DePasquale and Treasurer Joe Torsella brought a diverse panel of experts from health care, business and advocacy organizations to a public town hall on health care in Lancaster County Thursday night, saying they saw a need for it.
"It is too big an issue for it to be a small conversation that happens in committee rooms in Washington," said Torsella. "We wanted to have a conversation with the people we work for and people who could shed as much light as heat on this issue."
The meeting at Pennsylvania College of Health Sciences drew about 60 people and lasted about 90 minutes, as scheduled.
The two Democratic state officials said the future of health care under the Trump administration is of great importance to both the state's residents and its bottom line – and noted their estimate that rolling back Medicaid expansion would add at least $300 million to Pennsylvania's deficit.
"Nobody else has had a discussion like this, period," said DePasquale. "Somebody has to fill the void."
The panelists briefly presented their perspectives on the Affordable Care Act, some saying it could be improved but has brought positive changes, and others saying they believe better results would be achieved with less federal regulation or some version of Medicare for all.
Jan Bergen, president and CEO of Lancaster General Health, said it has helped people not only by expanding the number of those who have health insurance, but also by pushing providers "to look at innovative models that can improve access to care and help make it more affordable and sustainable." That ongoing transition, she said, is important but difficult.
Chuck Pennacchio, executive director of Healthcare For All PA, disagreed.
"Its primary effect has been to enhance the profits of the medical industrial community," he said. "We have to take it away and give it back to the patients."
Gene Barr, president & CEO of Pennsylvania Chamber of Business and Industry, said he sees a mixed bag.
"It has certainly had an adverse impact in terms of flexibility and structuring plans," he said. On the other hand, he said, hospitals were having "significant problems because of their obligation to serve whoever comes through the door," and the law has helped.
Ray Landis, advocacy manager of AARP PA, said the health care debate is critical to that organization's members, whether they're in Medicare or rely on Medicaid to provide nursing care after they have exhausted their assets – or are purchasing insurance on their own and realizing the significant impact regulation can have on their costs and coverage.
The meeting concluded by opening the floor to the audience.
First in line was a man who read what he described as a page-long plan to "make health care great again" by letting companies offer their insurance coverage to customers as well as employees. He asked no comment, and got none.
Several other audience questions and comments followed, leading to a rapid-fire discussion ranging from whether it's fair to charge different prices for the same procedure, to what would best help people get the care they need, and specific holes that people have witnessed in the current law.
Town hall meeting on health care in Lancaster County draws about 60 | Local News
Tags: #Healthcare #Healthcare Info #Healthcare News #Healthcare Recipe #Healthcare Trick #Healthy Lifestyle