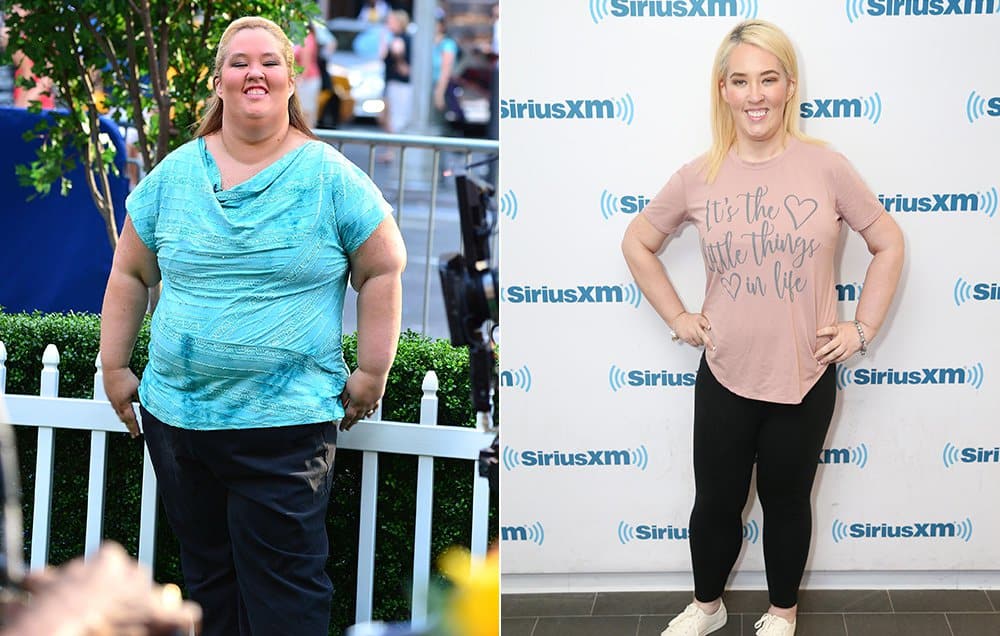 Whether you (secretly) love Mama June or cringe every time you hear her name, you have to admit that Mama June Shannon's dramatic weight loss has completely transformed her appearance for the better. If you haven't been following her weight loss journey on WE TV's Mama June: From Not to Hot, you may not be familiar with how she managed to drop 300 pounds. The truth is that even if you have watched every second of the show, there are several things you might not know. Here are 5 things you were never told about Mama June's weight loss.
There was more to her weight loss than just diet and exercise.
After losing 90 pounds, Mama June's weight loss plateaued and she began to experience fainting episodes. With a goal of losing at least 80 more pounds, she opted to undergo gastric sleeve surgery. This procedure involves taking out around 80% of the stomach, though the digestive tract stays intact, unlike gastric bypass surgery. While this procedure is permanent, she'll still have to exercise and eat healthy or run the risk of regaining the weight she lost.
To perfect her look, she underwent over $75,000 worth of surgery.
In addition to having 9 pounds of loss skin removed from her stomach, "bat wings" (sides of her arms), and "turkey neck," Mama June also underwent a variety of plastic surgery procedures. They include liposuction around her neck and on her face, a tummy tuck, and breast implants and a lift. She also had porcelain veneers placed on her teeth. Finally, she had a procedure referred to as "cool sculpting" to get rid of her double chin.
She didn't rely on anyone else for help with her medical bills.
In an interview with the Dominic Nati Show, Mama June was quick to point out that she alone was responsible for the costs of her surgery. She said, "I had to pay, just like everybody else." Of course, she did receive money from WE TV for appearing on the show, which made it easier for her to afford the procedures. On the other hand, no one has revealed how much she was paid for doing the show.
She's joined a support group.
Although she was nervous about "walking into a room of people I don't know and talking about my overeating," Mama June decided it was necessary to join an overeaters' support group to help maintain her weight loss long-term. She opted for a small support group, which was particularly beneficial after she fell off the wagon due to the stress of Sugar Bear's upcoming wedding.
Her weight loss has taken a (positive) toll on her emotional health.
Although Mama June admits that her weight loss was initially motivated by revenge and a desire to make "Sugar Bear kind of jealous," that's no longer the case. Now, she's motivated because "I don't want to disappoint everybody and not be the skinny Mama June that everybody is looking forward to…. it can't be about making everyone happy — it's got to be about me."
So, what do you think? How does Mama June look and more importantly, will she be able to maintain her weight loss?
There's More to Mama June's Weight Loss Than Meets the Eye
Tags: #Healthy Lifestyle #Weight Loss #Weight Loss Info #Weight Loss News #Weight Loss Recipe #Weight Loss Trick