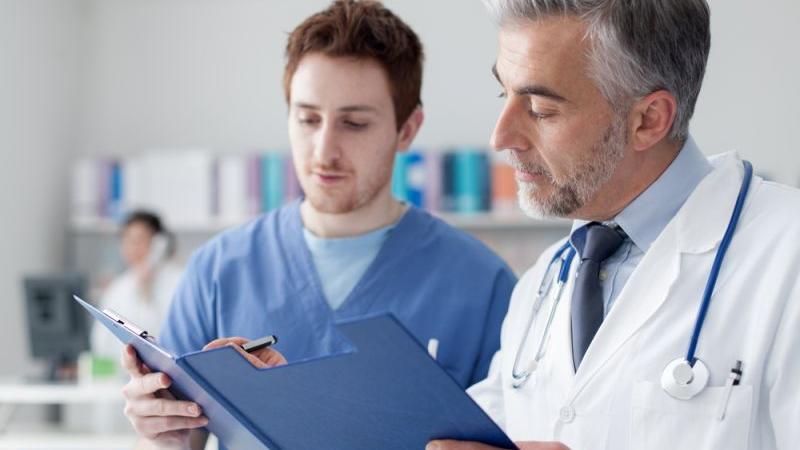 Few industries are expected to grow as fast as the healthcare sector over the next 10 years. The Bureau of Labor Statistics estimates that employment in all healthcare occupations will grow 19 percent from 2014 to 2024, adding about 2.3 million new jobs.
Moreover, at $62,610, the median annual wage for healthcare practitioners and technical occupations was well over the median wage for all U.S. occupations in 2015. Within the industry, though, there is wide disparity in how much different jobs pay. For instance, nursing assistants and orderlies make $25,710 on average, while physicians and surgeons average $187,200 or more.
With that in mind, CareerTrends, a career research site by Graphiq, used data from the BLS to find the jobs in the healthcare industry with the highest average annual salary in 2015. Note that salary figures are averaged across three general sectors within the overarching healthcare industry: general health practitioners offices, home health care services, and disability and mental health facilities. Employment figures are summed across each of these sectors.
In general, specialized medical fields like anesthesiology, podiatry and optometry offer high-paying career tracks. Although medical professions dominate the ranking, not every top-paying job requires an M.D. Professions like lawyers and financial managers also make the cut.
Note: Job descriptions are sourced (with minor edits) from the Bureau of Labor Statistics.
The 50 highest-paying jobs in the healthcare industry | National News
Tags: #Healthcare #Healthcare Info #Healthcare News #Healthcare Recipe #Healthcare Trick #Healthy Lifestyle