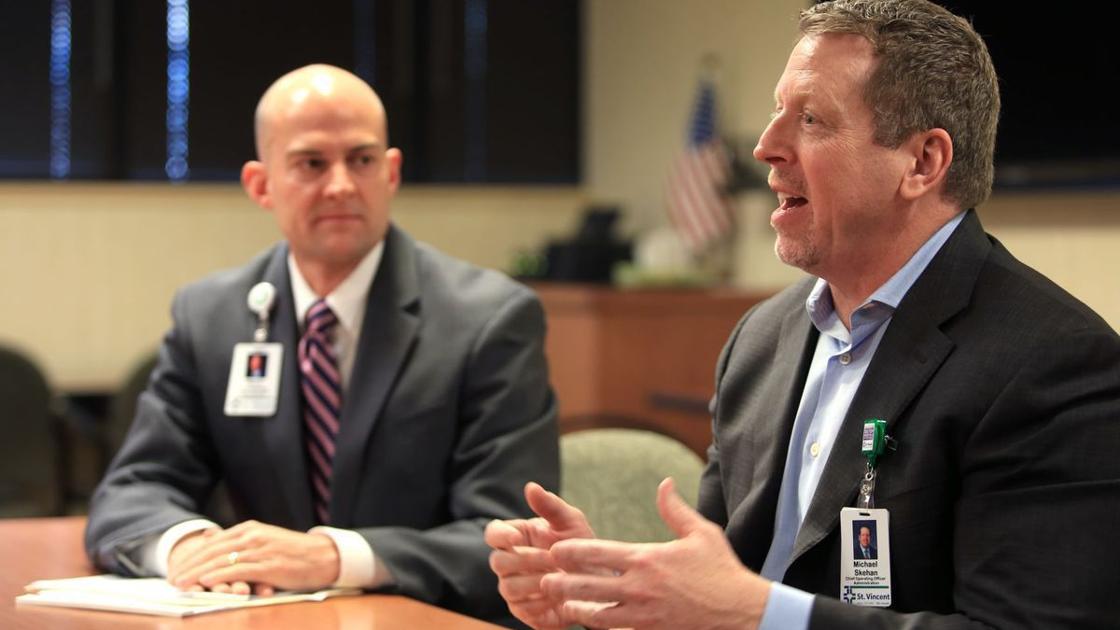 BILLINGS — Under the banner of "Better Together," St. Vincent Healthcare and its sister hospitals in Montana, St. James Healthcare in Butte and Holy Rosary Hospital in Miles City, are transitioning to a regional approach.
Steve Loveless, president and CEO of St. Vincent Healthcare in Billings, announced the changes Friday afternoon.
"By integrating a network of hospitals, physician practices, and services across the state, we'll increase collaboration and the sharing of resources and the sharing of expertise," he said.
"We will be, can be, better together than any one of us working individually," Loveless added, sitting in a conference room at the Mansfield Education Center on the St. Vincent campus.
The three hospitals are all part of SCL Health, which has headquarters in Denver. SCL also has five hospitals in Colorado and one in Kansas.
The transition will include a restructuring of leadership. Loveless, who will now add "regional market executive" to his title, will have overarching responsibility for all three hospitals.
Michael Skehan, chief operating officer at St. Vincent, will become the regional chief operating officer. And Dr. Jeff Zavala, chief medical officer at St. Vincent, will be the regional chief medical officer, responsible for provider leadership across SCL Health Montana.
Jesse Laslovich has been hired as vice president of network development. He will be based in Butte but will spend much of his time on the road, Loveless said.
"Jesse will work closely with me as we look at growth opportunities and as we work with providers and hospitals in the region," he said.
The role of the presidents of St. James and Holy Rosary will change to some degree as they coordinate with the new leadership on strategy and operations, Loveless said. But they'll continue to have responsibility for integrating the physician network into the hospital operations, he said.
They'll also be responsible for community relations and being the face of the organization in their communities. The presidents will also work with their foundations, whose philanthropic support is "more important than ever," Loveless said.
The composition of the boards of the three hospitals will also remain the same. The boards will come together for joint retreats, but they will continue their local responsibilities.
Loveless emphasized that each hospital will retain the character for which they're known.
"When you think about that, St. Vincent opened its doors in 1899, and the legacy of care and healing that comes with that 117 years," he said. "The same is true of St. James in Butte and Holy Rosary in Miles City, and we want to make sure that legacy continues into the future."
The kinds of growth at the three hospitals will also be tied to their differences. St. Vincent is a Level II trauma center while St. James is a community hospital and Holy Rosary a critical-access hospital.
"The things you'll do at a critical-access hospital will look different than the things you'll do at a Level II trauma center," Loveless said.
Another reason for the new approach, he said, has to do with the concept of quality care closer to home. The new model will give the hospitals "the ability to deliver high-quality care that's affordable and that's accessible in a location as convenient to the patient as possible," he said.
That might mean physicians and specialists traveling to the other hospitals to meet with patients. But it will also incorporate technology, allowing patients in their hometowns or even their homes to meet with providers elsewhere through tele-health or virtual care.
Skehan used the example that SCL Health Montana is developing a single cardiology practice with multiple locations to serve the needs of all three communities. If a cardiologist in Butte wants to go on vacation, a single-practice model will provide more consistent coverage, Skehan said.
The single practice also provides more opportunities to the physicians. Cardiac catheterizations aren't done at Holy Rosary, but a Miles City cardiologist who wants access to a cath lab could be rotated to St. James or St. Vincent.
"Just this concept of a single-group practice all working together, regardless of where they are, is going to be good for the providers and good for the community," Skehan said. "And I think it's ultimately going to lead to enhanced satisfaction and retention of providers."
Loveless added that all three hospitals will continue to see a reinvestment in the local community from additional technology and the replacement of facilities. The hospitals also have additional capabilities they're not yet tapping, and the goal will be to grow those service offerings.
"We will know that this is successful if we look back and see a growth in volume and a growth in the services we offer at each of the care sites," he said.
St. James Healthcare, sister hospitals move to regional model; Jesse Laslovich hired as VP, will base out of Butte | Butte News
Tags: #Healthcare #Healthcare Info #Healthcare News #Healthcare Recipe #Healthcare Trick #Healthy Lifestyle