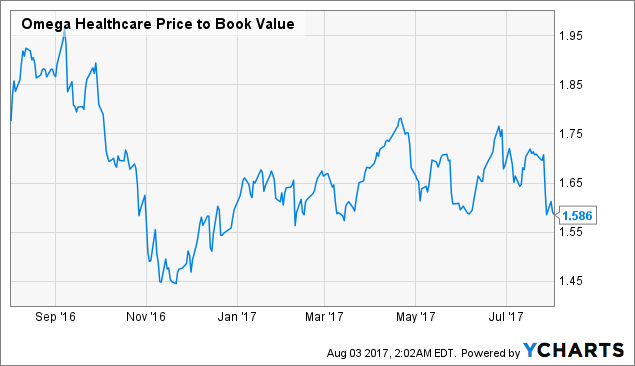 Omega Healthcare Investors' (OHI) shares are already a bargain, but they could get even cheaper as part of a wider market drop. With stocks sitting near record highs, a price drop of five to ten percent is fully within the realm of possibility, and investors need to plan accordingly. I am increasing my cash levels now in order to be able to take advantage of an inevitable market drop that would make quality income vehicles like Omega Healthcare Investors even cheaper.
Can you even remember the last time stock prices dropped 5 percent, 10 percent, or even 20 percent? And can you recall how painful the last bear market was for most investors? Chances are you can't because stock prices have been steadily climbing in the last couple of years, and the 2007 market crash happened almost a decade ago. In short, investors have short memories, and they have become way too complacent.
Earnings season has been pretty good so far for companies and investors, and, by extension, stocks. That said, though, today's complacency paired with investors' willingness to buy into stocks at record levels is a convincing reason to be fearful. Valuations, on average, are pretty high, and they coincide with something else: Overbought sentiment.
As a matter of fact, I think there are three overriding reasons why investors should be prepared to buy into Omega Healthcare Investors as pressure on valuations begins to mount:
1. Omega Healthcare Investors Has Invested, And Will Continue To Invest, Heavily In Its Real Estate Platform
Omega Healthcare Investors has invested $5.8 billion in the growth of its real estate portfolio in the last thirteen and a half years – $1.3 billion in 2016 alone – in order to morph into a health care REIT with a national presence.
Source: Omega Healthcare Investors
Omega Healthcare Investors now has operating facilities in 42 states and in the United Kingdom.
Source: Omega Healthcare Investors
Omega Healthcare Investors works closely with health care facility operators. While the health care REIT's relationships with its operator base have evolved over time, no operator poses an outsized risk to Omega in terms of revenues.
Source: Omega Healthcare Investors
In addition to a widely diversified real estate portfolio, Omega Healthcare Investors has had industry-beating occupancy rates.

Source: Omega Healthcare Investors
2. Omega Healthcare Investors Will Continue To Grow Its Dividend
Omega Healthcare Investors just reported robust Q2-17 results, and continues to display top-shelf dividend coverage for a health care REIT. I recently doubled down on Omega Healthcare Investors as the REIT combines excess dividend coverage with an above-average commitment to raising its dividend payout every single quarter (Omega Healthcare Investors just raised its dividend for the 20th consecutive quarter and the new dividend rate is $0.64/share).
Omega Healthcare Investors is in a stable financial position and can continue to grow its dividend. I updated Omega Healthcare Investors' dividend coverage chart for its second quarter results, and the real estate investment trust should have no problems growing its dividend payout by $0.01/share moving forward.
Source: Achilles Research
3. Omega Healthcare Investors Is Reasonably Valued…A Market Drop Would Make An Investment Even More Attractive Long Term
Omega Healthcare Investors guided for adjusted funds from operations of $3.42-$3.44/share for the current year. Based on this guidance, income investors seeking to access Omega Healthcare Investors' 8.2 percent dividend, pay 9.1x 2017e AFFO. A market slide would translate into an even lower AFFO multiple (and higher cash flow yield), increasing investors' margin of safety.
Income investors pay a premium to the REIT's book value. The premium valuation is justified in my opinion based on Omega's above-average dividend visibility, high cash flow yield, and potential for AFFO growth.
OHI Price to Book Value data by YCharts
Why You Should Raise Cash
Investors have been piling into stocks for more than eight years (where do you think all that central bank money went?), pushing investors into risky assets and inflating their prices. Against this backdrop, I think the time has come to be a little more cautious, and raise cash in order to gobble up high-quality income vehicles when they are on sale.
If you have read my articles before you know that I have almost entirely liquidated my high-yield income portfolio earlier this year – primarily BDCs and mortgage REITs – due to concerns about stretched valuations and overbought sentiment, and because good investment opportunities have become increasingly hard to find.
Considering that a 5-10 percent market drop is entirely within the realms of possibility, having cash at hand to deploy during a market drop is the smart thing to do.
Your Takeaway
Omega Healthcare Investors has assembled a high-quality, geographically-diversified skilled nursing facility portfolio that throws off a growing stream of FFO. I have doubled down on the health care REIT because of its low valuation, and because it has a high degree of dividend coverage/visibility. Omega's second quarter results continued to show AFFO resilience and very good dividend coverage.
That said, I think income investors need to raise their cash levels in order to be able to scoop up high-quality income vehicles like Omega Healthcare Investors once the market falls back from its recent highs. Though Omega Healthcare Investors already makes a solid value proposition, I think the reward-to-risk ratio looks particularly attractive below $30.
If you like to read more of my articles, and like to be kept up to date with the companies I cover, I kindly ask you that you scroll to the top of this page and click 'follow'. I am largely investing in dividend paying stocks, but also venture out occasionally and cover special situations that offer appealing reward-to-risk ratios and have potential for significant capital appreciation. Above all, my immediate investment goal is to achieve financial independence.
Disclosure: I am/we are long OHI.
I wrote this article myself, and it expresses my own opinions. I am not receiving compensation for it (other than from Seeking Alpha). I have no business relationship with any company whose stock is mentioned in this article.
Omega Healthcare Investors: Strong Buy Below $30 – Omega Healthcare Investors, Inc (NYSE:OHI)
Tags: #Healthcare #Healthcare Info #Healthcare News #Healthcare Recipe #Healthcare Trick #Healthy Lifestyle