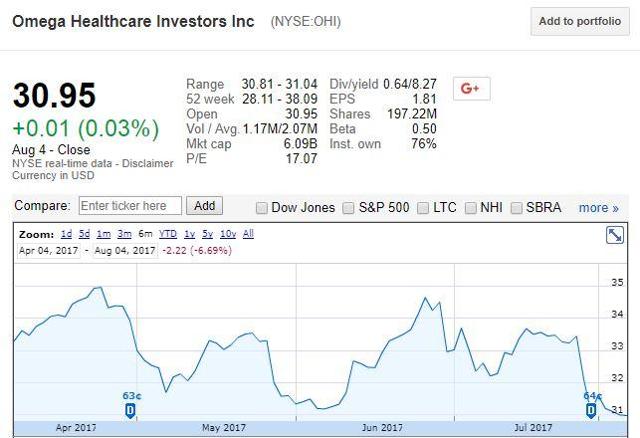 When it comes to high-yield stocks, pretty much everything is a calculated risk. Omega Healthcare Investors (OHI) is one of those high-yield stocks that I've long believed is worth the risk on. First of all, it is a landlord for skilled nursing facilities in the US. Part of this is because the demographics. As baby boomers continue to retire, more and more will qualify for Medicare, which is the primary source of compensation for Omega's tenants.
Omega Healthcare Investors typically yields around 7%-8% and trades at valuations lower than many other healthcare REITs. The reason for this is that, as I alluded to in the previous paragraph, much of Omega's business is effected by federal laws, federal government regulation and federal regulatory rules for compensation. Given the government's lack of stability over the last handful of years, it's little surprise that Omega is cheap, but that is a risk I am willing to take in return for Omega's high yield. The demand for skilled nursing is high and growing, Omega is reasonably leveraged, and its dividend, while high, typically has a lot of cushion. That's a winning combination.
This article takes a look at Omega's latest quarter, and particularly, the myriad of uncertainties in healthcare going forward and how they are effecting Omega's business. I'll state right off the bat that I am confident in Omega's ability to weather through the uncertainty and remain a profitable, high-yielding healthcare REIT.
Cleaning house
On the surface level, Omega's quarterly results don't look so good. Funds from operations in the second quarter dipped from 87 cents last year ($172.3 million) to 73 cents this year (at $150.9 million). However, when one factors in $23.5 million in one-time debt refinancing costs, reported FFO is just about flat compared to last year. That's not so bad. While I do eventually expect some growth out of Omega Healthcare Investors, with the low valuation it is trading at right now, not to mention a sustainable dividend which yields 8.3%, I am happy with flat FFO.
Not only that, I do not mind in the least the refinancing actions the company has taken over the last quarter. All in all, Omega redeemed a $400 million note due on 2024 at 5.875%, and prepaid a $200 million unsecured term loan. Omega also issued a new senior note of $550 million due in 2028, and another loan of $150 million due in 2025, which yield 4.75% and 4.5%, respectively. Debt remains at a reasonable 4.77 times EBITDA.
Priced for imperfection
The healthcare sector and the skilled nursing industry are facing considerable regulatory uncertainty at this time. The defeat of a repeal of Obamacare was, according to management, thanks in no small part due to healthcare industry lobbying of moderate Republicans, and management believes this to be a positive for skilled nursing facilities, particularly as Medicaid will not be restrained.
There is also the revenue-negative factor of the government's reform of Medicare and Medicaid reimbursement, which is how most of Omega's tenants get paid. I've said this in previous articles, but it bears repeating each time: The piecemeal change from fee-for-service reimbursement to 'bundled' service reimbursement is proving to be revenue-negative for Omega and its tenants. This goes a long way to explain why FFO was effectively flat on the year. Management also guided on FFO for 2017, and now expects FFO to be roughly flat.
That's not a good situation, but Omega will fare just fine either way. With dividends at only 70% of FFO, and debt at a relatively manageable level, Omega's generous dividend is quite dependable. Income investors looking for a good yield would be wise to consider this REIT.
Shares of Omega Healthcare are well down, but as you can see, the drop corresponds closely to the ex-dividend date – not an uncommon occurrence with this stock. Investors who want out of the stock often times wait until they get that dividend. However, for long-term investors, the day after the ex-dividend declaration can be a buying opportunity.
Either way, Omega Healthcare Investors is quite cheap. According to data from FAST Graphs, Omega has averaged 12.3 times FFO over the previous ten years. Right now shares trade at just 9 times FFO. That is a 27% discount to average valuation. While uncertainty abounds regarding several regulatory factors, that uncertainty is more than priced in at this point. Expectations are so low right now, that Omega is indeed worth picking up. I recommend Omega Healthcare Investors as a buy if you want high yield.
If you're interested in Omega Healthcare Investors, feel free to follow me here on Seeking Alpha. Also, Omega is one of the 'sustainable high-yield stocks' I recommend on my Seeking Alpha marketplace service, 'Streaming Income.' I invite you to take a look at that income-based marketplace service.
Disclosure: I am/we are long OHI.
I wrote this article myself, and it expresses my own opinions. I am not receiving compensation for it (other than from Seeking Alpha). I have no business relationship with any company whose stock is mentioned in this article.
Omega Healthcare Investors A Buy After 'Ex-Dividend' Date – Omega Healthcare Investors, Inc (NYSE:OHI)
Tags: #Healthcare #Healthcare Info #Healthcare News #Healthcare Recipe #Healthcare Trick