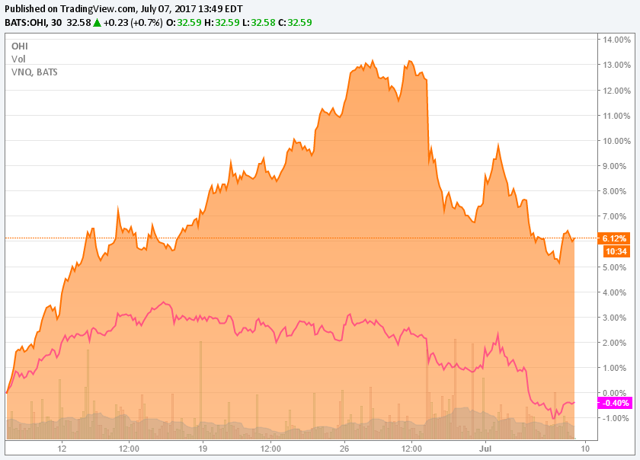 I am interested in understanding Omega Healthcare Investors (NYSE:OHI) as the next addition to my portfolio. You can read about the goals of the Lake House Portfolio in Lake House Portfolio Part 1 & Part 2.
In summary, the Lake House portfolio is composed of mostly Healthcare & Data Center REITs. REITs were chosen because of the higher than average dividend yield. The Healthcare & Data Center sectors were chosen because of their favorable growth prospects. In the previous article Ventas: The Next Lake House Buy, it was mentioned that a balancing was needed to be achieved by adding more healthcare.
The last month has been rough on REITs. Although OHI has fared better than VNQ, a REIT index. Even though the healthcare sector has taken the hardest hit in the past week.
Why OHI
Since this portfolio is so new, I am focusing on stocks that are larger capital because larger capital stocks are less risky investments. OHI is the #4 stock i the healthcare REIT sector in terms of market capital at about $6.3 billion. But, has the lowest P/E multiple of the top 4 at about 15.9x where HCN & VTR, the top 2, are in the 40x – 46x range.
My favorite characteristic about OHI is its historic and expected growth. Over the past 5 years, OHI is #2 of the top 4 when looking at EPS growth over the past 5 years. Plus, the trend is expected to continue & increase as it is #1 of the top 4 in terms of expected growth over the next 5 years.
About the Company and Why I Like It
I love companies that focus on growth. A quick run through of OHI's June 2017 investor presentation makes it clear that management is focused on growth. Management's attitude coupled with demographic growth is a winning combination in my book. The share price growth showed about 16% CAGR since 2002 which is about double the S&P 500 (SPX) and fared well throughout the last recession.
To look at some industry specific measurables… Occupancy rate is a good measure of efficiency in the healthcare sector. OHI has continuously maintained an occupancy rate above industry average. In addition to AFFO payout ratio that consistently hangs around 70% – 75%.
All is not good though. There is one point that concerns me and it the dividend growth. Dividend growth was very good between 2014 and the end of 2016. In 2017 it has slowed down quite a bit.
Summary
OHI is a great company with a management focused on growth with a history of great share price & dividend growth. If you can catch it on this recent dip, it will likely treat you well and will make a great addition to your portfolio.
Disclosure: I am/we are long OHI.
I wrote this article myself, and it expresses my own opinions. I am not receiving compensation for it (other than from Seeking Alpha). I have no business relationship with any company whose stock is mentioned in this article.
OHI-O: Ready To Buy? – Omega Healthcare Investors, Inc (NYSE:OHI)
Tags: #Healthcare #Healthcare Info #Healthcare News #Healthcare Recipe #Healthcare Trick