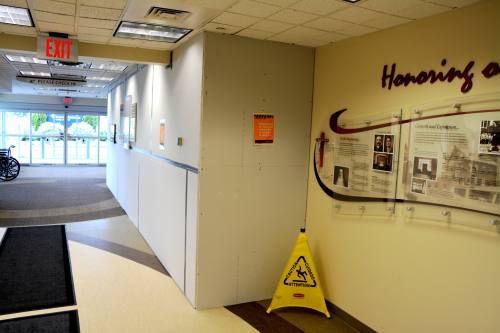 CADILLAC — The Munson Healthcare emergency room in Cadillac has begun a renovation project to add patient rooms and improved workflow for staff and patients.
The Mercy Cadillac Hospital Endowment Fund provided $700,000 toward the renovations, currently in the first phase.
The emergency room treats about 27,000 patients a year, a number that grows annually by at least 500, ER manager Jeremy Carlson said.
"It's not uncommon for us to put through 100 patients a day here," he said. "We function more like a Level 2 trauma center.
"It was great five years ago, but now with our increased volume, it is not meeting our needs. "
The current layout, built in the 1970s, presents workflow issues, Carlson said, while the elimination of a wall and rearrangement of workspaces will create a more efficient environment.
"It'll be very much connected," he said. "It's going to feel more like one contiguous ER."
The ER, which currently has 15 beds and two additional beds in the hall, will add three rapid care rooms. The two current rapid care rooms will be converted into an intermediate level, Carlson said, adding medical gas and telemetry, while the use of hallway beds should be eliminated.
The ER will also add wireless telemetry units and a new system for storing medications.
While the number of patients has increased, total patient time has decreased by about 30 minutes, Carlson said. To maintain efficiency, the ER plans to hire a new shift of nursing staff and a new shift of tech staff.
"People are always surprised we're so busy," Carlson said. "I always warn nurses when I'm hiring them: 'Don't let the size of this hospital fool you.' We take care of some very sick patients here, and we're very busy."
The first phase of renovation, which relocates the registration area, is underway and expected to wrap up in October. The construction of new treatment rooms begins at the end of October, while the nursing station will begin in January.
The construction may create inconveniences as foot traffic is rerouted through the department, Carlson said, but the separate phases will keep the number of patient rooms consistent until the project is completed in the spring.
"We've wanted to become the standard of care for managing inpatients and families," he said.
Munson Healthcare ER in Cadillac undergoes expansion | News
Tags: #Healthcare #Healthcare Info #Healthcare News #Healthcare Recipe #Healthcare Trick