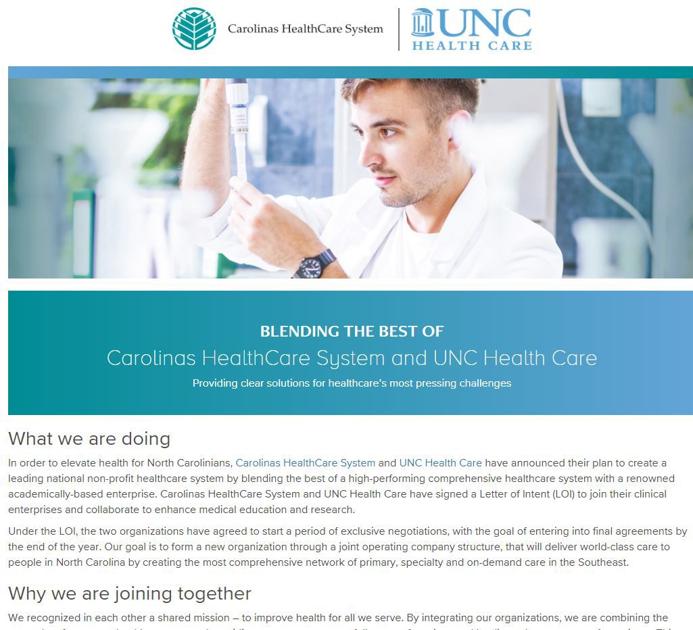 Two health care giants began the merging process this week to combine forces and improve care across the state, especially in the rural communities.
Carolinas HealthCare System announced a Letter of Intent to join with UNC Health Care Thursday, Aug. 31. The negotiation process should wrap up by the end of the calendar year, and officials from both organizations said on-the-ground changes would probably come next summer.
"We believe that the creation of this new organization will really bring a new level of both expertise and capability to the great state of North Carolina," Gene Woods, president and CEO of Carolinas HealthCare System, said. "The idea is to really provide new solutions that bridge our medical education research resources as well as our entities' experience in critical care. This is certainly not a decision or conversation we come into lightly. This was more about how we could come together and blend the best of both."
The two organizations began seriously talking about a merger over the summer after more than a year of company higher-ups joining in casual conversations. Both Woods and UNC Health Care CEP Dr. William Roper said they recognized a shared mission to improve overall health care and access to services and thought that by blending their staff and resources they could create one of the leading nonprofit healthcare systems in the country.
"Our vision is to be the nation's leading public academic health system, and today's news is a big step forward, we think, in achieving that reality in partnership with you all," Roper said. "This new organization will deliver world-class care. We think we'll have the most comprehensive network of primary, specialty and on-demand care in the Southeast. It will allow us to come together to address North Carolina's most pressing health care challenges, including the need to increase access to care."
To do that, the new organization will focus on four things: increasing access and affordability, advancing clinical care expertise, growing the academic enterprise and contributing to the region's economy. That means no increase in costs, Woods said, and an effort to actually improve affordability for patients.
"We believe that efficiency we will drive by coming together and not duplicating infrastructure and not duplicating technology," Woods said. "And obviously the enhanced buying power. We think that will ultimately enhance our ability with respect to our affordability agenda."
One of the major areas the organization hopes to focus on is improving health care access in the state's rural areas. Woods said they wanted to find innovative ways, such as telehealth models, to reach communities where they were at and where they had the most need.
"We saw an opportunity in North Carolina to really be a national model to impact many of North Carolina's most pressing issues," he said. "Where other institutions have left rural areas, we're looking to face this challenge head on, identify exciting opportunities for health care and better outcomes.
"Together we serve almost 50 percent of all patients who visit rural hospitals in our state, so we believe we're perfectly positioned to work with our state and work with other business partners to participate in what we believe could be a reinvention of rural health care."
Typically with a merger discussion comes talk of layoffs, but Woods and Roper said they anticipate the opposite across the board. As the two organizations come together, Woods said they plan to expand their services rather than cut them back or consolidate.
"If you look at health care right now, what you hear is that there's shortages," he said. "We very much anticipate that we will continue to need more talented folks. Health care needs to be more efficient and affordable. Fundamentally, we believe that this will be a great platform not to just retain talent in North Carolina but to attract talent throughout the country."
The Letter of Intent both entities signed essentially announces their agreement to begin exclusive negotiations. Both CEOs said they hope to enter into a final agreement by the end of 2017.
"It seems like we've got work to do in the next few months to work out the details of this," Roper said. "Today's announcement is we are engaged, and the wedding is still several months away. We have a lot of conversations to happen."
More on CHS-UNC Health Care merger | News
Tags: #Healthcare #Healthcare Info #Healthcare News #Healthcare Recipe #Healthcare Trick #Healthy Lifestyle