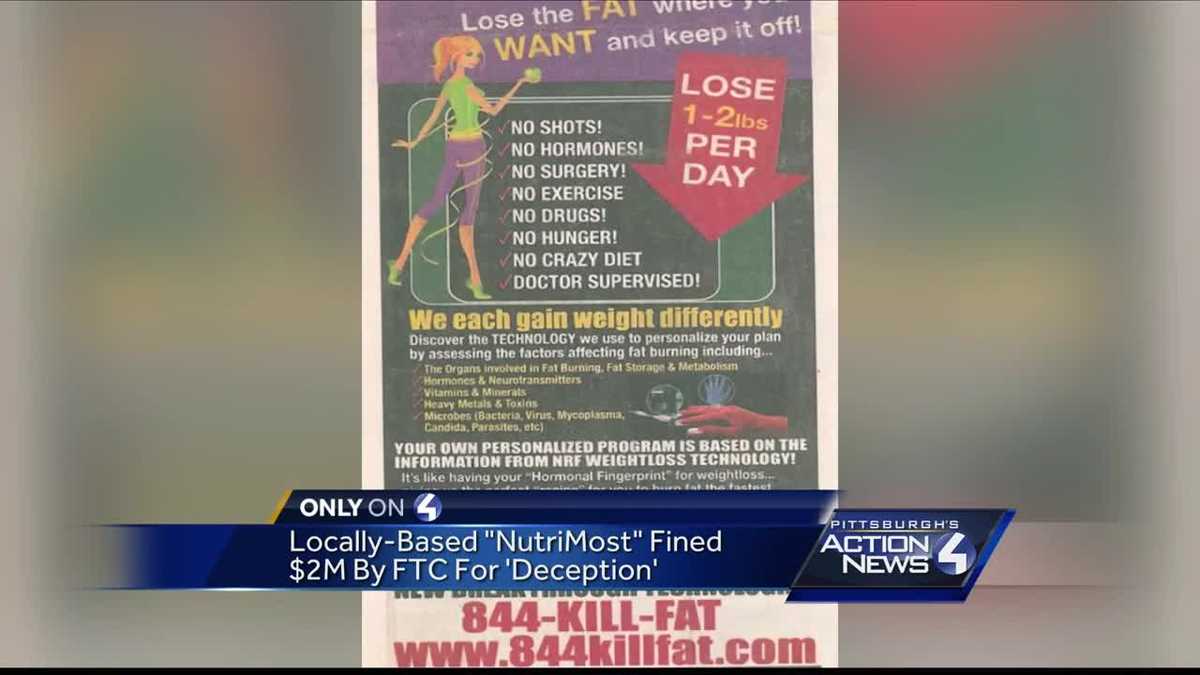 Locally-based weight-loss company fined $2 million by FTC
FTC says NutriMost was deceptive to customers
 | 
Updated: 11:25 PM EDT Apr 20, 2017
A Pittsburgh-based weight-loss company has been fined $2 million dollars by the FTC accused of deceiving its customers.
Raymond Wisniewski, owner of NutriMost, told Pittsburgh's Action News 4 in an exclusive interview that he stands by the fact the his company is "by far the best wellness and weight loss program on the planet."
NutriMost boasts more than 100,000 customers across the United States with more than 160 locations across 30 states.
Hear his side of the story in Alyssa Raymond's report.
WEBVTT SYSTEM STAND BEHINDHIS PROGRAM.>> I STAND BY THE FACT THAT IT'SBY FAR THE BEST WELLNESS ANDWEIGHT LOSS PROGRAM ON THEPLANET.REPORTER: RAYMOND WINESKILAUNCHED IT OUT OF HISCHIROPRACTIC OFFICE IN 2007.NOW FRANCHISES EXIST THROUGHOUTTHE UNITED STATES.THE PROGRAM GUARANTEES PEOPLEWILL LOSE AT LEAST 20 POUNDS.SOME ADVERTISEMENTS CLAIM YOU'LLLOSE 20 TO 40 POUNDS IN JUST 40DAYS.>> WE BELIEVE THAT OUR PRODUCTDOES EVERY SINGLE THING THAT WESTATE THAT IT DOES.REPORTER: THE FEDERA TRADECOMMISSION FILED A COMPLAINTAGAINST THE PITTSBURGH BASEDWEIGHT LOSS PROGRAM, THE F.T.C.ALLEGES THE BUSINESS USESDECEPTIVE ADVERTISING AND HASN'TCONDUCTED ANY SCIENTIFIC STUDIESTO SUPPORT ITS CLAIMS.HE SAYS THEY DID DO A STUDYINVOLVING 30,000 PEOPLE.>> F.T.C. SAID THAT DIDN'T MEETTHEIR CRITERIA.THE PROBLEM WAS THAT WHEN YOUPUT IN THE TIME PERIOD,20 POUNDS IN A CERTAIN PERIOD OFTIME, THE INSTANT THAT YOU DOTHAT, THEN YOU HAVE TO HAVE THATPROOF OF THAT.REPORTER: THE F.T.C. ALSO CLAIMSPRODUCT TESTIMONIALS COME FROMRELATIVES AND EMPLOYEES.WISNESKI SAYS THAT'S NOTENTIRELY TRUE.>> THEY WERE A SATISFIEDCLIENTS, WE USED THEM IN THEADVERTISEMENT AND THEY BECAME ANEMPLOYEE.REPORTER: WHILE THE F.T.C. USESWORDS SUCH AS DEACCEPT TICH,FALSE AND MISLEADING, HE STANDBY HIS WEIGHT LOSS PROGRAM.>> WE HAVE THE MOST HAPPYSATISFIED CLIENTS, PERIOD.MIKE C.: THE SYSTEM HAS BEENUSED BY MORE THAN 100,000 PEOPLE
Locally-based weight-loss company fined $2 million by FTC
Tags: #Weight Loss #Weight Loss Info #Weight Loss News #Weight Loss Recipe #Weight Loss Trick