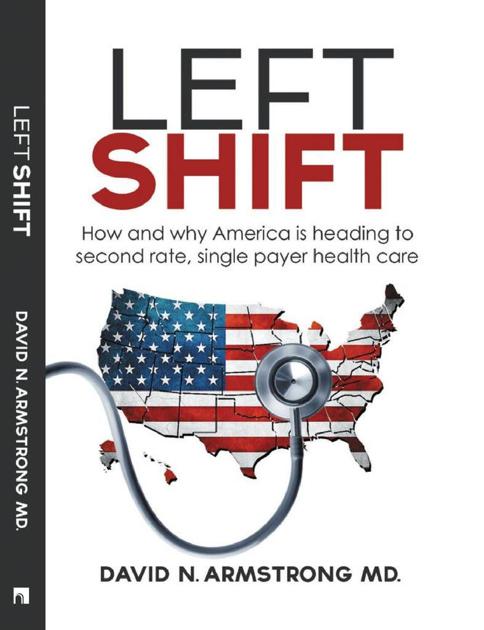 The first U.S. hospital Britain born-and trained surgeon Dr. David N. Armstrong ever stepped into about 25 years ago was the most modern one he'd ever seen.
"I had never worked in a hospital less than 100 years old when I worked in Britain," Armstrong said.
He equated those modern hospitals with the U.S.' s free-market health care system and became fascinated with how that differed from England's socialized medicine.
So he decided to write a book.
Today, Armstrong works as a surgeon at Gwinnett Medical Center. As of about four months ago, that book, "Left Shift," finally hit stores.
"It's getting some degree of attention," Armstrong said. "I think it's just an important message for people to know."
For the better part of 20 years, Armstrong tinkered with the book. He added facts or chapters when he found another interesting difference between socialized and free-market health care.
"My kids are 18 and 20," he said. "When they were little, I was adding to it chapter by chapter."
Armstrong's book picked up steam when the government passed the Affordable Care Act, or Obamacare, on March 23, 2010. That moved the U.S.'s health care to the left. Armstrong began to worry the country was moving toward a system similar to the single payer system he'd left in England.
"I felt frustrated (in England) because the system was completely stagnant," he said. "So, I basically jumped ship."
By the time the 2016 elections came around, Armstrong said he believed the American people needed to read his book.
"The purpose of the book was basically a buyer-beware type of message," he said.
He said the book points out some of the harsh realities of a single-payer system that some voters don't think about when they hear about socialized health care.
"It sounds good on paper and in the news and all the rest of it," Armstrong said. "But there are things that are very significant drawbacks."
He said he found more people tend to die of cancer in countries with socialized medicine because patients tend to have less access to screening like mammograms or colonoscopies. More people tend to die of heart attacks, too, according to Armstrong.
He also said doctors are more accessible and work more efficiently in the free market.
That's not to say Armstrong's book completely discredits all forms of government-funded health care. He said he believes programs like Medicaid and Medicare are "great programs."
"There's a very large population that needs that safety net," Armstrong said.
He said he just doesn't want Americans to fall too deeply in love with a system he found worked poorly in England.
"The book was intended as a red flare for the American people saying, 'Hey, this sounds good, but Britain's been doing this for 50 years,'" Armstrong said. "The outcomes are really not that good."
He said "Left Shift" is sold at "all the usual suspects," including Barnes and Noble and Amazon.com. A paperback version of the book costs $12.52 on Amazon.com.
"Left Shift" was Armstrong's first attempt at a book. He'd written articles for scientific journals and chapters for medicinal books before. He said the process of publishing his own book was time-consuming but fulfilling.
"If you believe in your message and if you think the story is important and you think your readers will learn something from it, then I think it's a thrill," Armstrong said.
Local surgeon publishes book on U.S. health care | News
Tags: #Healthcare #Healthcare Info #Healthcare News #Healthcare Recipe #Healthcare Trick #Healthy Lifestyle