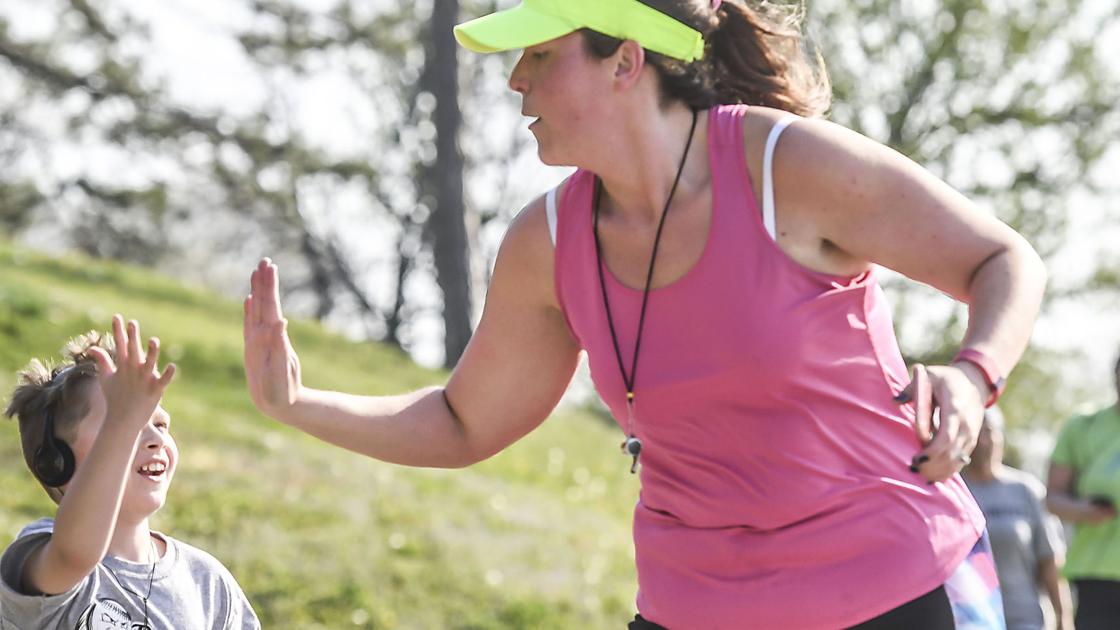 +5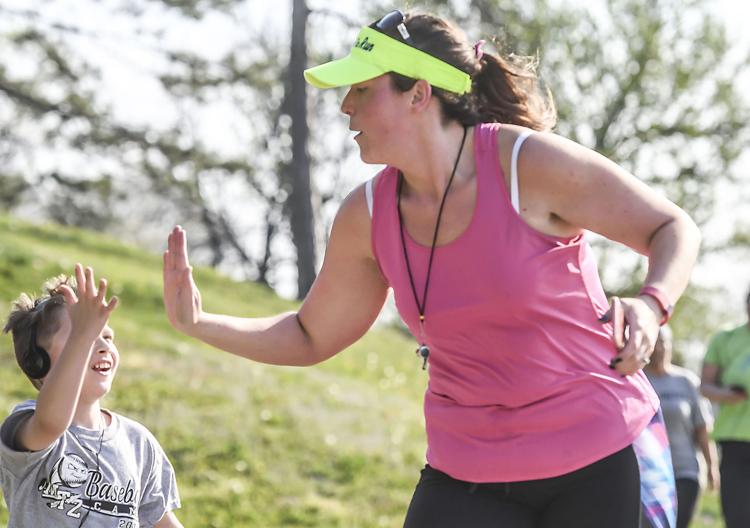 DECATUR — Stephanie Kelly was looking for a free workout and found one that changed her life.
Inspired by Learn to Run founder Tracy Hewitt's enthusiasm, Kelly dedicated herself to Learn to Run — a 10-week program offered by the Decatur Running Club for people with little or no running background.
In 2016, Kelly completed the 10-week program, then went on to run a 5K on her 30th birthday and lose 110 pounds.
"I looked in the mirror, and I hated myself," Kelly said. "I'd started walking a couple months earlier, but I didn't have any money to join a gym. What was I supposed to do?"
A friend told Kelly about the Learn to Run program, so she signed up and showed up at Fairview Park. But she wasn't optimistic.
"I thought, What am I doing? I can't run. I haven't been able to run a day in my life," Kelly said. "But I just kept telling myself: You don't like yourself, so fix it."
Learn to Run has grown in each of its four years, with 168 people beginning this year's first week, 58 more than last year.
Runners choose three to four days to participate each week and increase the amount of running they do every week, alternating between running and walking. Some never get past walking but still benefit from the exercise.

+5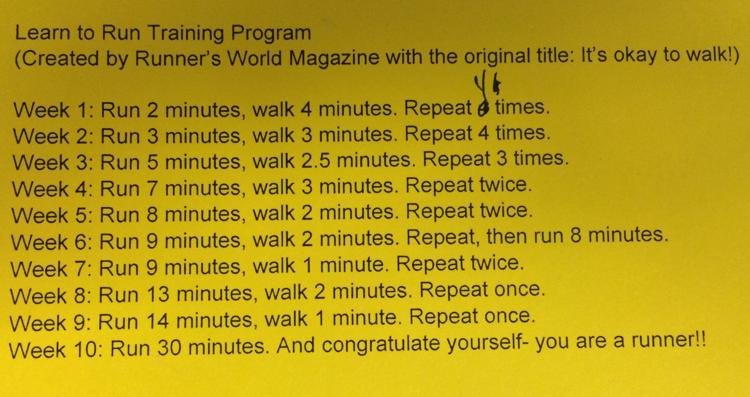 "There's no pressure to keep up. There's no competition," Hewitt said. "We have people who can't run because of certain injuries or conditions, but they want to be out here. I tell them, 'Don't worry about it.' People ask if they can just walk, I tell them, 'Absolutely.'"

+5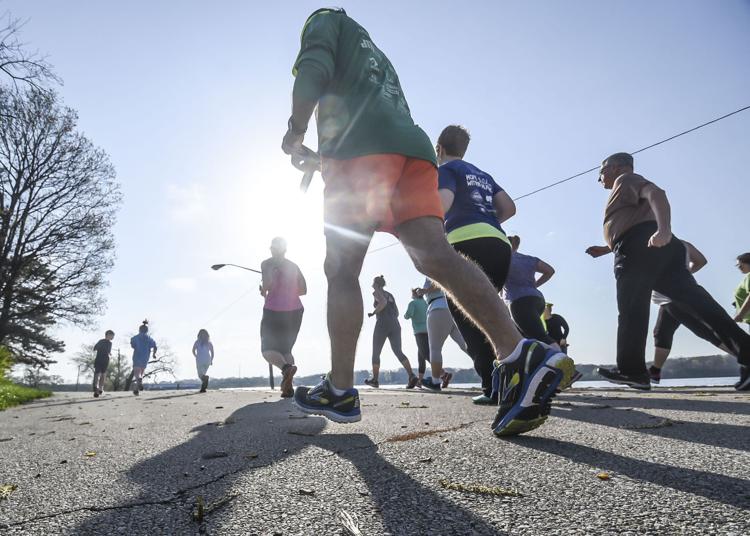 True warriors
The first day of Learn to Run last year didn't go well for Kelly. Then the first week didn't go well. But Kelly stuck with it. She said Hewitt was a big reason why.
"Tracy is so uplifting," Kelly said.
Hewitt is always smiling and always encouraging. On the first day of the program's second week, clouds formed above Nelson Park near the lakefront and all the cellphones' radars were predicting a storm any minute.
Hewitt looked at the sky. There were a few sprinkles, but no lightning.
"How's everyone feel about running in the rain?" she asked the crowd awaiting her decision. "We'll make memories that'll last a lifetime. We'll be true warriors."
Fortunately for the runners, it didn't rain. After a quick warmup, the participants walked along the lakefront. Hewitt gave them a pep talk before they began their first three minutes of running.
"This is a big week," she told them. "This is the week where you make the magic."
When a runner was holding her side with a pained look on her face, Hewitt recognized the problem.
"Got a side stitch?" she asked. "OK, raise your arm, bite your lip and breathe through your nose. I know it looks silly, but it works."
Kelly said Hewitt's encouragement inspired her to not give up when it got to the fifth week and the amount of time running increased to eight minutes at a time.
"That was the make it or break it point for me," Kelly said. "It was at that point I told myself, if I do this and run for 30 minutes, I'm signing up for a 5K next spring."
When the year ended and Kelly had completed the program, she said she immediately knew she wanted to become a volunteer for this year's program.
"I beat this program. Now this year I need to find a 'me' and make them my friend, like Tracy did for me," Kelly said. "Finding someone like her … they just don't exist. If this program is going to keep growing, we're going to need more than just Tracy, and that's why I wanted to be a part of it — to help give back for what it gave me."

+5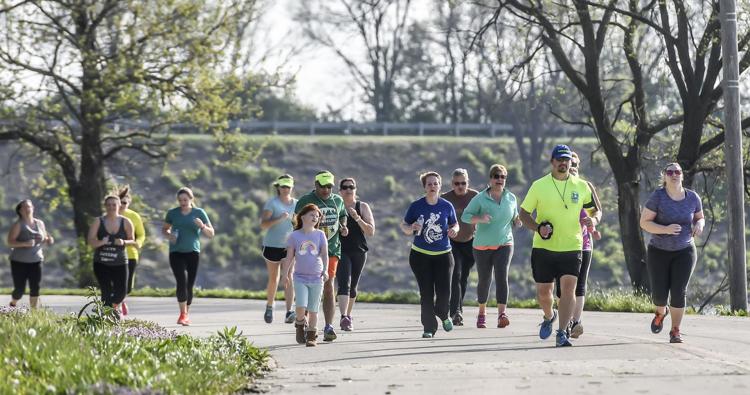 Friendships
On her 30th birthday, Kelly ran the Penguin in the Park 5K. "I kicked its butt, until I got to the finish line and threw up." Her next goal is a half-marathon.
Antoinette Wood, 45, of Forsyth and her 15-year-old daughter Megan began running in 5Ks after first discovering Learn to Run three years ago.
"I actually ran in high school, if you can believe that, and I was looking for a way to get active and spend more time with her," said Antoinette, looking over at Megan. "We did lots of 5Ks after that."
Antoinette said the friendships she formed helped her stick with the program.
"We loved the people," Antoinette said. "We made awesome friends — a real nice group."
Kelly said it was the connections she made with people in the group that helped her stick with running even after the Learn to Run program finished last year.
"After doing the program with people you have friends who get you off the couch when you're bored," Kelly said. "The more people you have to encourage you, the more willing you are to do it.
"Before this I was lazy. I'd rather have been watching TV. Now I like to be outside. I'm actually mowing," Kelly said, laughing.
Hewitt said building a sense of community is a goal of the program.
"It makes you accountable if you do it together," Hewitt said "Surrounding yourself with others doing it will make you more successful.
"And it's not just friends; it's families, too. This year we've had more kids sign up than any other year. We have at least 15 kids. Parents are bringing their kids and saying, 'Hey, let's do this together.'"
Happy endorphins
Rachel Spaide is director of therapy and sports medicine at HSHS St. Mary's Hospital, which provides athletic trainers on Wednesdays to help runners work through problems.
But Spaide wasn't working on Saturday morning when she participated the final day of the second week of the program.
"I used to run," said the 46-year-old Spaide. "But it was a long time ago — back in high school."
Spaide said after hearing about the program through her work association, she decided to give it a try this year for the first time.
"I'm kind of checking it out," Spaide said. "So far, so good. I've been able to keep up, so it's going well."
The Woods are experienced in Learn to Run, but feel like it's their first year — they took last year off because of some medical issues.
"We're back out here starting over from the bottom," Antoinette said. "It's been hard to get back into it, but with this you can start from the beginning and you get used to doing it again. That's what I like about it."
Hewitt said once someone begins the program and sees some success, they usually continue with it.
"Getting them out here is the hard part," Hewitt said. "It's a scary thing. They're coming out here, stepping out of their comfort zone and putting their trust in us.
"But then they come out here and get those happy endorphins. They feel better."
Hewitt said, like Kelly, it's common for second-year participants to be volunteers. She said one participant walked for two years, then began running the third year and is now a volunteer.
Kelly was at every session the first two weeks. She doesn't run every one of them, but she comes to see who showed up and monitor how they're all doing.
"It just means that much to me now," Kelly said. "This program has the capacity to change people, and I don't just mean physically. It's emotional, too. I didn't believe in myself. I had no confidence.
"Now, people notice the difference. They noticed it even before I lost the weight."

+5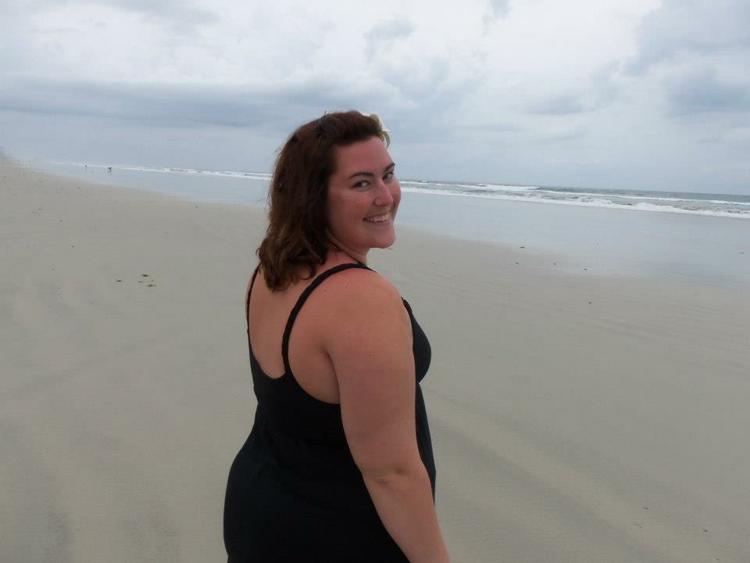 +5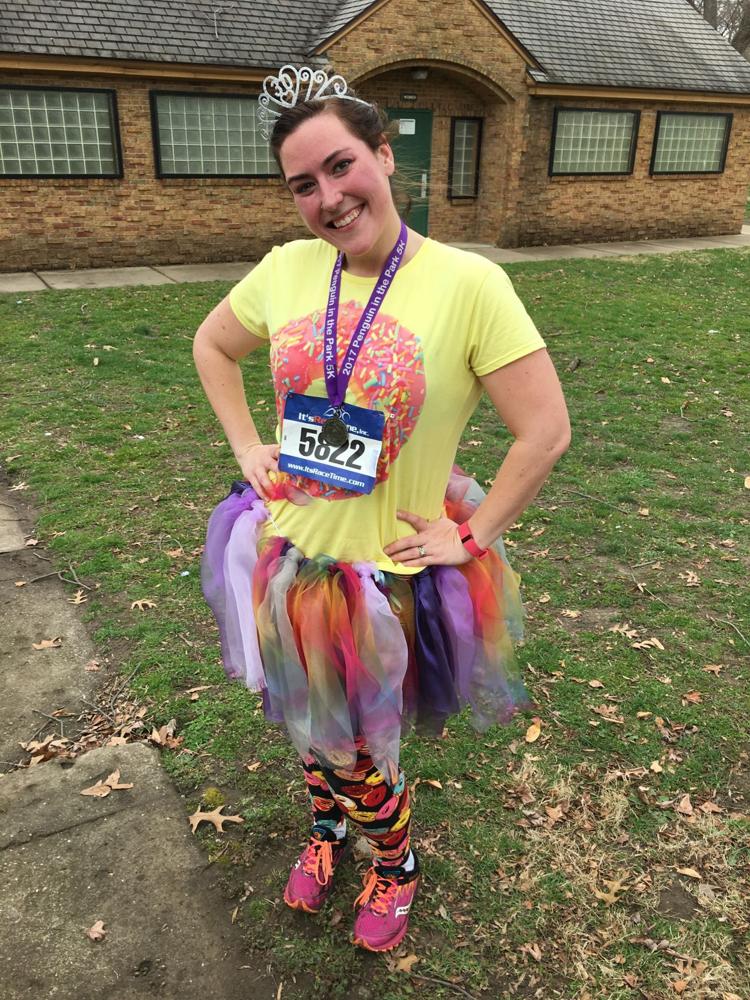 Learn to Run inspires weight loss, new way of life | Local
Tags: #Weight Loss #Weight Loss Info #Weight Loss News #Weight Loss Recipe #Weight Loss Trick