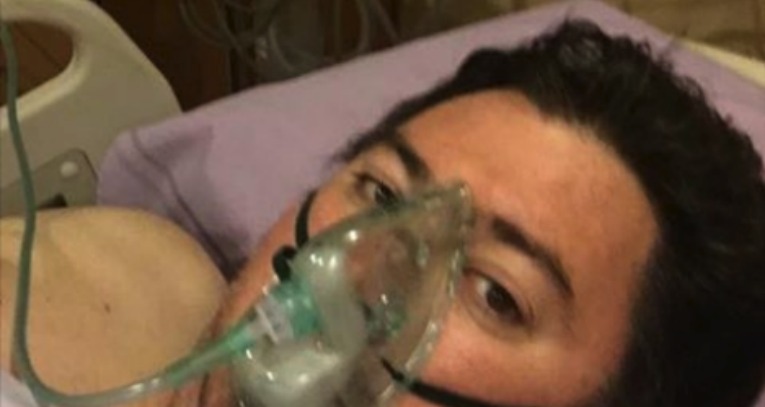 Queensland MP George Christensen has had 85 percent of his stomach removed in a dramatic move to improve his health.
The Nationals member for Dawson who's known as 'Big George' by colleagues posted on Facebook that he'd returned from Malaysia, where he underwent an extreme weight-loss surgery to remove 85 percent of his stomach.
He revealed that he weighed almost 176 kilograms at the time of the surgery and was aiming for a health weight of about 80 kgs. He'd already lost 5kg as a result of the surgery even before leaving the hospital.
"I decided for my own health and to better serve my electorate (and not cause a by-election) to undergo a sleeve gastrectomy," he wrote in his Facebook post.
"Now I can only eat small portions not exceeding about five semi-heaped tablespoons of food at any given time.  It's radical but good health is worth it and I have not been the picture of good health in a long time."
The post was accompanied by a picture of Christensen in a hospital bed wearing a breathing mask.
The Australian reported that the 38-year-old had noticed the health impact of being overweight over the past few years, putting him in danger of not reaching the age of  96 as his grandfather did. 
"At the rate I was going, I wasn't going to reach half of it," he told The Australian.  '[But] when you reach the size I did, exercise just becomes ­excruciating.
"I eventually found this company — they specialise in this sort of procedure — and last month I went over to Kuala Lumpur and underwent the surgery."
Now, he's encouraging other people who notice themselves putting on weight to take action.
"Do something about the problem now rather than reaching the point I did where it was near past no return in terms of sorting it out by exercise and diet," he wrote in his post.site
Christensen's full Facebook post is below. 
It follows the news that mining magnate Clive Palmer had shed an amazing 60kg in just eight months.
What do you think about his weight-loss surgery? Would you take such radical action in the same position?
");
googletag.cmd.push(function() {
googletag.display('div-gpt-ad-1426829548991-2');
});
// }
// }, 250);
// });
});
Heavyweight pollie reveals surprise weight-loss op
Tags: #Healthy Lifestyle #Weight Loss #Weight Loss Info #Weight Loss News #Weight Loss Recipe #Weight Loss Trick