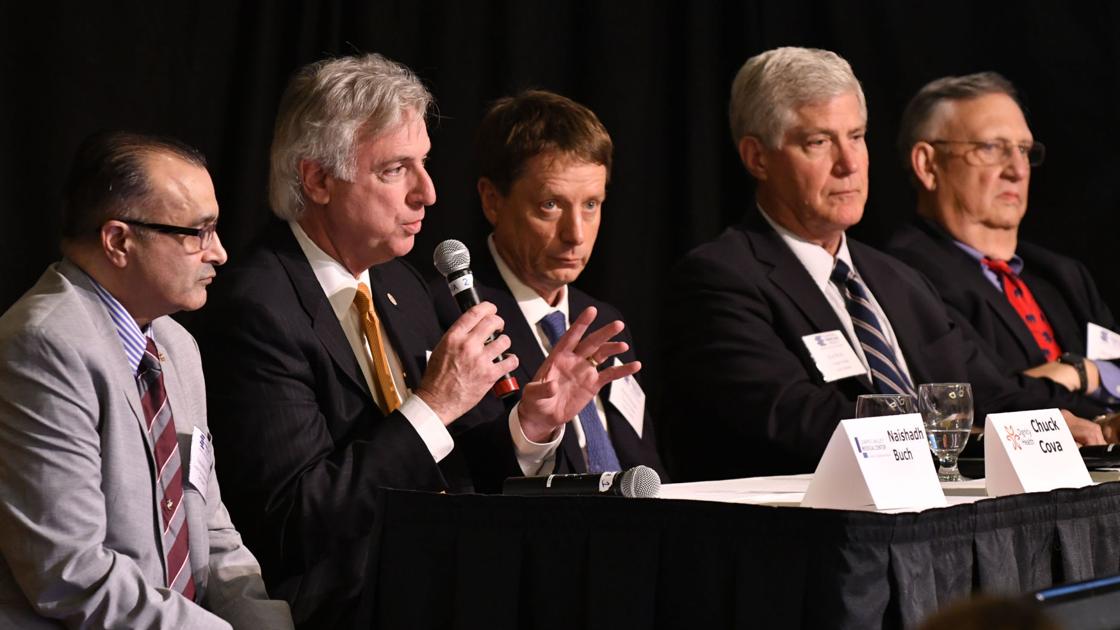 "All bets are off and it's a whole new world" if President Barack Obama's Affordable Care Act (ACA) is repealed. Those were the words Friday morning of Bob Freeman, head of CenCal, which provides health care access to one in four residents of Santa Barbara and San Luis Obispo counties.
Freeman spoke to a gathering of several hundred business and civic leaders from across the Central Coast, who gathered at the Radisson Hotel in Santa Maria for the North Santa Barbara County Economic Summit, a part of the University of California Santa Barbara Economic Forecast Project.
The Summit focused on health care, and featured four regional health care providers as well as journalist Dan Walters, a columnist for the Sacramento Bee who spoke on the politics of health care, and Peter Rupert, executive director of the UCSB Economic Forecast.
CenCal is one of the first Medicaid-only managed healthcare plans in the nation.
"Forty-nine states call Medicaid, Medicaid. One calls it Medi-Cal. That's California," said Freeman.
Medicaid is the largest health insurance program in the nation; covering about 90 million people. Freeman said the ACA expanded the rules as to who could be covered by Medicaid and Medi-Cal.
One of every two babies born in California uses Medi-Cal, he said.
"The attitude about Medi-Cal is that it is a program for the very poor and destitute. That has definitely changed; 80 percent of the Medi-Cal population have jobs," Freeman told the gathering.
According to Freeman, no one anticipated how fast Medi-Cal's enrollment would grow under the ACA. He said Medi-Cal grows by about 3,500 users a month.
"This population has benefitted from having healthcare," Freeman said.
Chuck Cova, senior vice president of operations for Dignity Health, which manages Marian Regional Medical Center, said that efforts in Washington D.C. to change the nation's health care system aren't about caring for patients; it's about financing the care system. 
"We shouldn't kid ourselves, health care reform is really about the cost of health care as a gross national product," Cova said.
He said one of the ACA's goals was to provide more access to primary care providers.
"We know that if we can provide access to primary care the better the outcome," Cova said.
He said no matter what the health care world looks like, providers will still focus on care.
"Regardless of what happens with health care reform, we still have a commitment to serve our communities," Cova said.
Naishadh Buch, chief operating officer for the Lompoc Valley Medical Center, focused on the region's only public-run hospital system.
"Lompoc Health Care District is a political subdivision of the state of California," Buch said.
It operates a hospital, along with drug rehabilitation and treatment, and oncology centers.
"Our point is not to do everything, but to do the things that we do, well. We wouldn't do the heart transplant, we aren't large enough, but we will take care of people that need heart transplants and send them on the right way," he said.
Ron Werft, president of Cottage Health which operates hospitals in Santa Barbara and the Santa Ynez Valley, agreed with his counterparts about the idea behind health care reform.
"We really aren't trying to do health care reform, we are really changing the way we finance healthcare," Werft said.
Werft also spoke about the economic impact of all of the hospitals that serve residents of Santa Barbara County.
"(Santa Barbara County's health care providers) are a very large workforce provider. We have 6,600 jobs in the county. We spend about $1.2 to $1.3 billion per year. When you use economic multipliers, the subsequent spending and investments by our employees in the community results in about a $2.8 billion economic impact from our hospitals," Werft said.
Logan B. Anderson covers city government in Santa Maria for Lee Central Coast Newspapers. Follow him on Twitter: @LoganBAnderson.
Health care focus of North County economic summit | Local
Tags: #Healthcare #Healthcare Info #Healthcare News #Healthcare Recipe #Healthcare Trick #Healthy Lifestyle