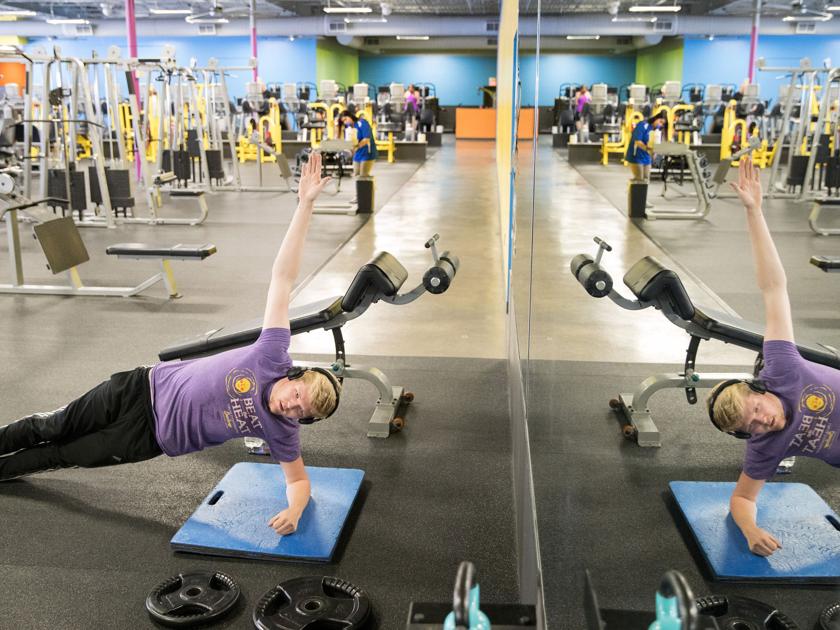 Dallas Fleming weighed 330 pounds at his heaviest.
But inside, the 6-foot-4 Bellevue man felt small and worthless.
Years of being teased about his size diminished any confidence Fleming had.
"I always put myself down," he said. "It made me feel like I didn't matter and wasn't going to amount to very much."
One day when Fleming looked in the mirror, he realized the weight didn't have to be permanent. Fleming, now 26, revamped his diet and started an exercise routine. In four years, he lost more than 100 pounds.
In middle school, he was chubby. Within a year, he put on 30 pounds. Fleming's peers teased him about his appearance. They called him fat, made jokes about his size and told him he was ugly.
Food was the only thing that made Fleming feel better after a day of being taunted.
He'd eat breakfast and lunch at school. For dinner, Fleming often ate a free meal at the fast-food restaurant where he worked. In between meals, he snacked on junk food, like cookies, doughnuts and ice cream. One day he ate an entire package of Oreo cookies in one sitting.
He drank next to no water and polished off about 2 liters of Dr. Pepper a day.
"There was never a time I wasn't eating," he said. "Being a kid, you don't really think about nutrition. I was definitely eating a lot of things that were not beneficial to my body."
Because of his size, Fleming was afraid to go out in public. For years he refused to go to the pool without wearing a T-shirt.
As Fleming, then 22, stood in front of the mirror one day in size 44 pants and a 3XL shirt, something clicked.
"I thought of how unhealthy I was, and how I was taking years off my life," he said. "I was tired of putting myself down."
Fleming got a gym membership and started small. He worked out for 10 minutes a day on the elliptical machine. Even then, his heart rate would jump, and Fleming felt light-headed.
He set incremental goals to start. Fleming lost 40 pounds, then set a new goal. He repeated that until he reached his current weight.
Now he hopes to maintain his weight loss and tone up. Fleming spends more than an hour at the gym four times a week.
He cut junk food and soda from his diet. He tries to drink at least 64 ounces of water a day.
He works part-time delivering pizzas, and the smell still makes him crave the cheesy pies. Occasionally he'll indulge in a slice when an incorrect order is left orphaned in the break room.
Now, Fleming weighs 203 pounds. He's down to a size 32 pant and medium shirt.
"My grandma says she doesn't even recognize me now," he said. "I'm like a different person."
Fleming's family had encouraged him to get healthy, but he had to do it on his own terms, his grandma June Badillo said.
It was hard to see him struggle with bullies and teasing growing up, she said.
"It was a big step for him to do on his own," Badillo said. "It's just been really great to see him change. He's more confident and outgoing. He's very happy and excited about his weight loss."
The weight loss didn't impact just his appearance. Fleming said he's been able to focus more on his schoolwork at Metropolitan Community College for an associate degree in liberal arts. He plans on pursuing a degree in psychology or sociology at the University of Nebraska at Omaha.
"Stepping on the scale and seeing that I've lost 127 pounds, it lifted my spirits. I always thought having this weight on me was going to be a permanent thing," Fleming said. "I can look at myself in the mirror and smile now. It limited me from everything I could have been doing to my full potential."
kelsey.stewart@owh.com, 402-444-3100, twitter.com/kels2
Dramatic 127-pound weight loss gives Bellevue man the confidence he lacked growing up | Real People, Real Inspiration
Tags: #Healthy Diet #Weight Loss #Weight Loss Info #Weight Loss News #Weight Loss Recipe #Weight Loss Trick