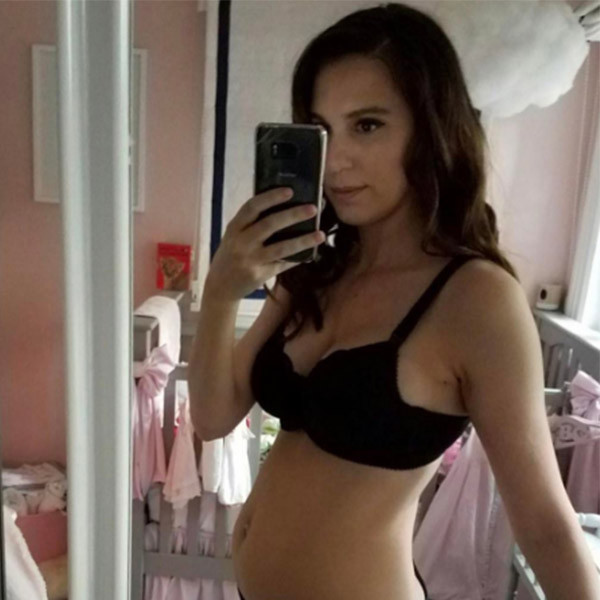 Christy Carlson Romano wants mothers everywhere to feel good about themselves and their bodies, no matter how long it takes to "bounce back."
The former Disney star shared a photo on Instagram of her belly two months after giving birth to her baby girl, Isabella.
"This is me 2 months postpartum. No fancy outfits or filters," she wrote. "It's so important for people to see motherhood for the beauty of what it really is. It's a massive undertaking to carry a human inside you! It's not that easy to 'bounce back' right away and it shouldn't be expected."
Thus, she says, "My body will be where I want it to be on my timeline and in the meantime I'll be soaking up these precious moments with my daughter."
In fact, E! News chatted with the new mama more in-depth about why she's not focusing so much on losing weight.
"I'm not doing anything to lose my baby weight except breastfeeding," she dished. "It's super important to keep eating healthy to keep breast milk supply up, so I am still honoring my cravings and taking prenatal [vitamins]."
Matt Winkelmeyer/Getty Images
She continued, "Eventually, I would like to find a workout that is fun! Before I gave birth, I would do H2Yoga (water yoga) and may go back to that class before hitting any intense workouts."
Her outlook on workouts and losing weight has a lot to do with her overall shift in perspective. 
"The most surprising thing about being a mom is how much your perspective shifts almost immediately," Christy told us. "It's like you become a new person! What I am finding most is how much you feel the need to embrace your new self without forgetting the old you, too."
She says she can see a lot of herself and her husband, Brendan Rooney, in their daughter, even at just a couple months old.
"Isabella is such a joy! She was the best Christmas present we have received," Christy gushed. "She is only two months and already has quite a personality. We can see her making faces that look like both of us, which is really surreal."
Overall, Christy says she's just feeling very grateful for her hubby and her family as she takes in all that motherhood has to offer.
"I am so blessed to have a supportive husband and family," she told us. "Having this experience is very humbling in that you learn how to ask for help. I have never had more respect for single moms. They should be given awards!"
Christy Carlson Romano Gets Real About Postpartum Weight Loss: "My Body Will Be Where I Want It to Be on My Timeline"
Tags: #Weight Loss #Weight Loss Info #Weight Loss News #Weight Loss Recipe #Weight Loss Trick