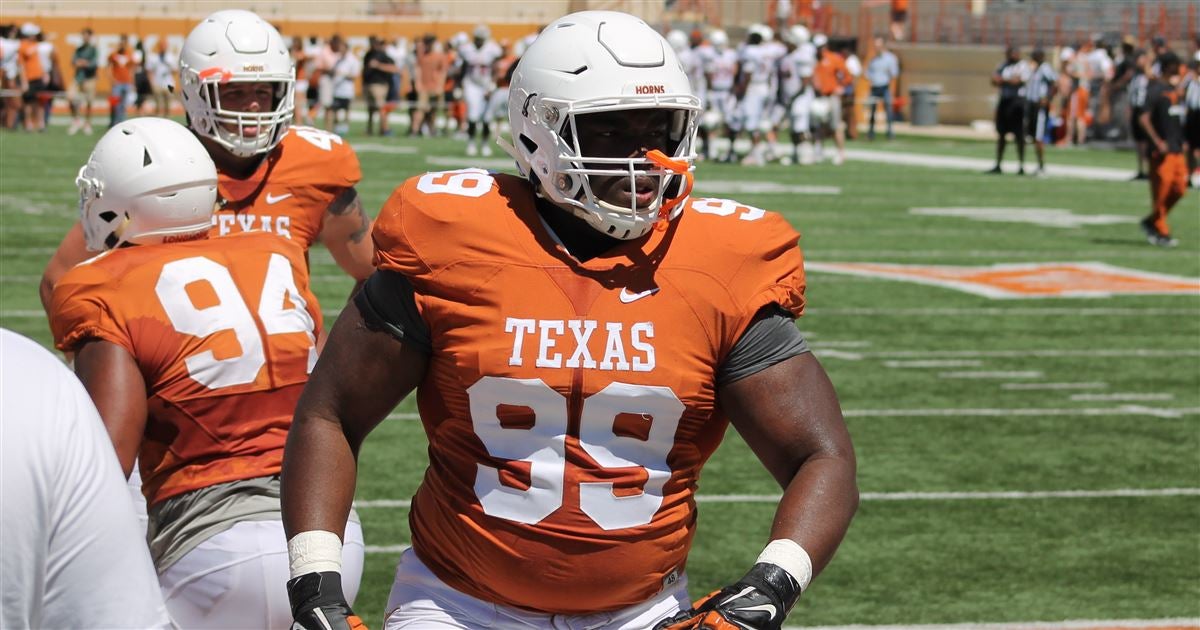 What's next for the Longhorns? Make sure you're in the loop by signing up for our FREE Texas newsletter!
Tom Herman sent a message loud and clear to his defensive linemen in March. Coming out of winter workouts, he wasn't happy with what he saw, calling them "fat guys" in his first spring press conference.
But it looks like that message worked, along with some help from strength coach Yancy McKnight. Defensive tackle Chris Daniels posted on social media this week that he's down 35 pounds since the start of the spring.

"Not even at my weight goal yet, but I've shredded 35 since spring," Daniels tweeted. "I'm coming this season."

Not even at my Weight Goal yet, but I've shredded 35 pounds since spring. I'm coming this season #HookEm #ChaseThatBag pic.twitter.com/kzPx8o85Cl

— Chris Daniels 99 (@clicclac97) July 19, 2017
Daniels, a redshirt freshman out of Euless, was a part of Charlie Strong's 2016 class. He didn't see any action last season, but due to some attrition, he's set to play more of a prominent role under Texas season.

His weight loss currently puts him just under 300 pounds (he was listed at 330 this spring), which is closer to where Herman and defensive line coach Oscar Giles would like their players to be.

Daniels, however, isn't the only one McKnight has made strides with this spring and summer. Offensive lineman-turned-defensive lineman Tope Imade, who made the move this summer, is down to right around 300 pounds as well and down to 23 percent body fat, according to 247Sports' Jeff Howe.

On top of that, offensive lineman Connor Williams dropped 19 pounds and 12 pounds of muscle since the winter, he told reporters at Big 12 Media Days this week.

That's probably why Herman called McKnight his "soulmate" coach earlier this year. But it's safe to say fans will probably see a much different-looking Texas team come the season opener on Sept. 2.

Chris Daniels shows off massive summer weight loss
Tags: #Healthy Diet #Weight Loss #Weight Loss Info #Weight Loss News #Weight Loss Recipe #Weight Loss Trick