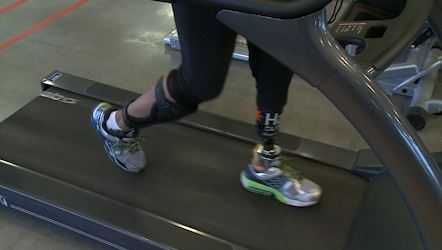 OMAHA, Neb. —
Sharan Moore-Bryson is preparing to do something she once thought wasn't possible. On Sunday, she'll run a 5k as part of the Omaha Marathon.
"I want to be determined. I have to make this personal," she said.
Just a few years ago, Moore-Bryson nearly died. She suffered complications from acute pancreatitis. She fell into a coma and lost blood flow to her legs.
"My family and I agreed to amputate my lower left leg," she said.
Doctors were also forced to amputate the heal on her right leg and four toes.
"It took me about three months to really learn and retrain myself to walk again," she said.
Moore-Bryson was fitted with prosthetics and underwent physical therapy. She gained a renewed focus on her health and became determined to lose weight.
"The hardest thing to change is your mindset.," she said.
She underwent gastric sleeve surgery, and in the past year, lost 100 pounds.
"The one thing that I've learned is that you can have as many goals as you want to, but goals without a purpose are just a wish," Moore-Bryson said.
She's now looking forward to accomplishing her next goal, and crossing the finish line at Sunday's 5k.
"I have a lot of stress. I'm under a lot of pressure to do this run. A lot of pressure to do this run. But i'm ready. I'm ready, and I'm excited to do it," she said.
Amputee prepares for 5k following drastic weight loss
Tags: #Healthy Lifestyle #Weight Loss #Weight Loss Info #Weight Loss News #Weight Loss Recipe #Weight Loss Trick