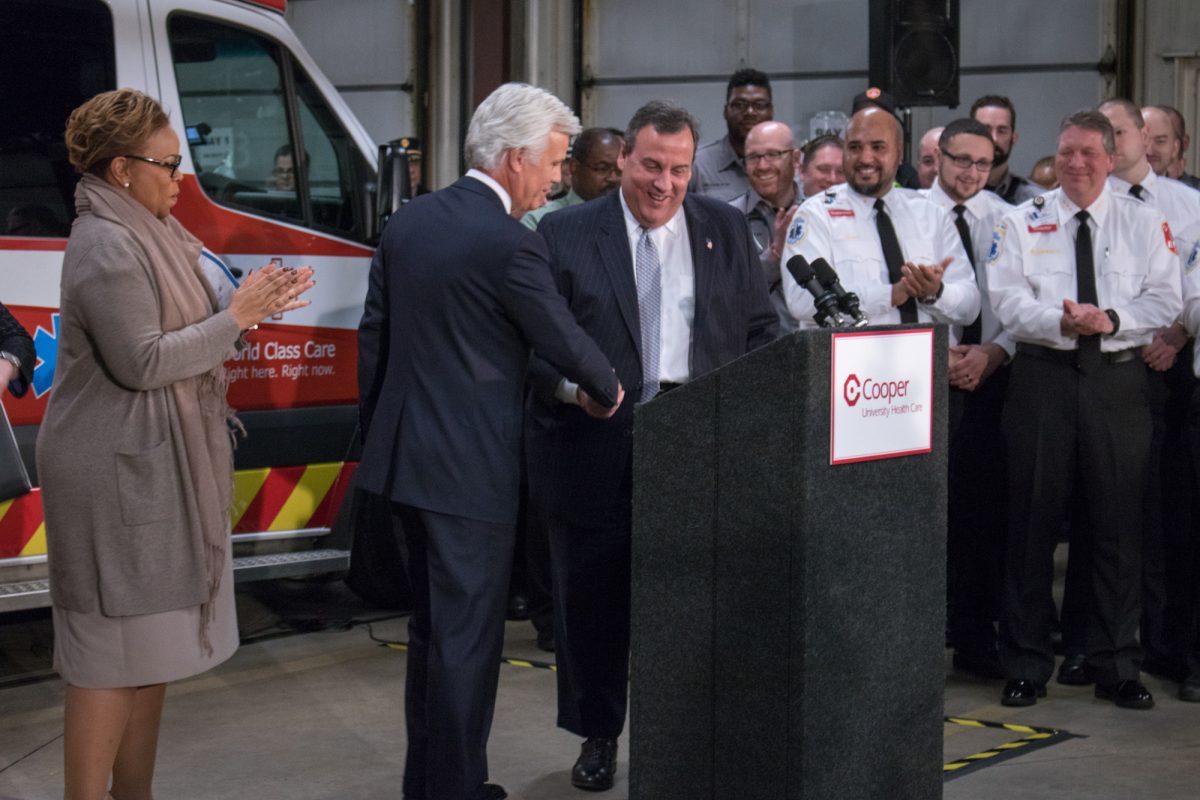 In Camden, Cooper has announced plans to absorb Lourdes and George E. Norcross III predicts that the city and all of South Jersey will benefit.
So what else is new?
Norcross, Cooper University Health Care's famous board chairman, regularly makes big announcements involving the city; if approved, the preliminary deal to combine Cooper with Lourdes' parent, Trinity Health, will create the fourth-largest hospital network in the state.
But mergers and acquisitions of local hospital systems such as Kennedy Health (soon to be part of Jefferson Health), as well as Underwood and Elmer hospitals (part of the Inspira Health Network) have been underway for a while.
So why are so many reactions to Cooper/Lourdes on social media and elsewhere so … apoplectic, verging on apocalyptic?
Because of two words: George Norcross.
The brand that inspires fear, anger, admiration, and speculation.
This wealthy Democratic Party power-wielder with the white hair extraordinaire is either savior or destroyer. No room for Mr. In Between.
He owns the Charter School industry, a piece of the public school industry in South Jersey and now he is aiming for all the hospitals.
Geez … he wants everything!
The Trump of South Jersey strikes again.
NOTHING good will come of this.
There have been less alarmist reactions as well.
"We're hoping it will be something that benefits the community," says Bridget Phifer, executive director of Parkside Business and Community in Partnership, Inc.
Her organization has long been a force behind locally controlled redevelopment in the Parkside neighborhood, where Lourdes has been an anchor since 1950.
"With Cooper acquiring Lourdes, perhaps we'll see the type of aesthetic change and investment in Parkside that Cooper has [generated] in the Cooper Plaza neighborhood,"  Phifer says, adding that PBCIP "needs to make sure we're acquiring the properties we can get our hands on now, rather than later. We've actually taken those steps."
Immediately after Thursday's thoroughly Norcrossian announcement ("revenues of nearly $2 billion", "nearly double-digit growth"), the Cooper's Ferry Partnership put out its own superlative-packed statement, proclaiming that the merger "only enhances [the] stellar reputation" of both Cooper and Lourdes.
I can't disagree, having been well cared for in the emergency room of each hospital. These are indeed two fine health care providers, and if Lourdes has to be merger-ized, I'm glad the suitor isn't some distant behemoth, but rather a local institution with deep city roots.
I am, however, concerned about the prospect of two competing hospitals in Camden becoming one. I'm worried how this would impact non-medical hospital staffers as well as services. And I can't imagine Norcross himself wouldn't run the board of this enormous, and enormously powerful, new health care system.
"Cooper's agreement with Lourdes and St. Francis doesn't empower any individual, it empowers patients who will receive access to the best of each organization — MD Anderson Cooper Cancer Center, Cooper's Level 1 Trauma Center and a nationally ranked cardiac program," Norcross says via email.
"At a time when healthcare, and patients, are getting squeezed, we're expanding care and that benefits patients."
Others among the Norcross-driven industrial, commercial, educational, and medical mega-projects underway across the city also glitter with the promise of better jobs (and better days) ahead. Most involve hefty state tax breaks such as the one that will bring Norcross' insurance brokerage firm along with others into a proposed $245 million downtown waterfront complex.
The truth is, I've never seen so much development in so many places in Camden since I wrote my first story about the city in the late 1970s. But having watched other grand 'revitalization' efforts come and go (usually the latter), I can't help but be concerned about the top-down, top-dog character of the work-in-progress so much of the city has become with Norcross as the mastermind.
As for the proposed Cooper-Lourdes deal,  "from a policy perspective there is an argument that it makes sense," says Matt Rooney, a conservative Camden County Republican and the MC of the unabashedly, entertainingly partisan SaveJersey.com website.
"Once again, though, the [Norcross] empire grows," Rooney continues. "His supporters will say that the merger will provide great health care and also help revive Camden, and time will tell.
"But Americans have an independent streak. We're skeptical of too much power being concentrated in too few hands. We're naturally going to be concerned when we see anyone getting a little bit too mighty."
Especially anyone who hasn't been elected.
A one-man plan for a health care system and a city?
Tags: #Healthcare #Healthcare Info #Healthcare News #Healthcare Recipe #Healthcare Trick #Healthy Lifestyle